Casper turned nine on the 15th of September, 2009. This past year has been a roller coaster ride with Casper. It is a significant year because it is one that Casper nearly didn't make. Below is a month by month progress of what went on with Casper. I think the most important messages to come out of the last twelve months are these:
Keep a stable diary of any changes, noting improvements and set backs. (I even kept note of when I opened new bags of chaff),
When something is working, don't change it,
It can take months to reverse these affected horses,
Hang in there and give your horse a chance to recover.
Don't take them on an outing at the first sign of recovery, allow them to heal. (THIS IS THE most important take home message).

November 2008.
First ride back after being away for two months in America. A dreadful ride with Casper biting himself badly, almost uncontrollably. He was also head flicking, wouldn't stand still, wouldn't settle and spooking at everything. The first ride back ended in tears and thoughts of putting him to sleep or out to pasture, never to be ridden again. This would have really been a life of misery for him as the cause of his problems would never have been discovered.
December 2008.
I sent a pleading email to Casper's breeder who had moved from Sydney, Australia to New Zealand. She informed me that toxins were a major problem with horses and suggested I source a toxin-binder.
January 2009.
2/1/09 - I commenced on another company's product for myco-toxins. A fair response but not great, plus this company didn't want to deal with a single horse person so this lead me to Lucy Prior and Jenny Paterson.
11/1/09 - Casper's grazing paddock was extended when I felt sorry for Casper at standing around in a little dirt paddock.
24/1/09 - Casper started biting at himself again, became heavy and difficult to ride and wouldn't settle or listen to anything asked of him. Casper was subsequently put back into his little dirt yard.
23/1/09 - the toxin-binder that doesn't bind nutrition arrived and Casper commenced on 10g and increased to 15g twice a day.
February 2009.
We didn't do much riding as it was just too hot in the summer heat and Casper was still very unwell. Lucy sent me a sample of highly absorbable organic magnesium with boron to see if that would help me. This arrived on 13/2/09. I also ordered a blend of top quality, well balanced vitamins and minerals. Lots of rain intervened. 23/2/09 - Casper was on highly absorbable organic magnesium with boron plus extra organic calcium as well and this is when it all started to come together. My first ride after commencing the ProVide It Plan (I'll have one with the lot please!), Casper was finally showing glimpses of that wonderful horse that was bursting to get out.
March 2009.
All was going well until Casper got into the Lucerne (note to self: remember to shut the gate). This upset his stomach and he began biting again but quickly stopped this within two days.
15/3/09 - Casper gave all he had to give and I was over the moon with our progress.
April 2009.
This was a hard month as there had been lots of rain so not a lot of riding. Casper went away for a few weeks as I was moving, however he was being ridden by a good friend and she was delighted with his progress. This friend helped establish his canter, something I will admit I had been too scared to do given the bucking displays on the lunge. My friend is a brilliant rider and was not worried by the bucks he may throw in.
May 2009.
Still away and being ridden by my friend and doing really well.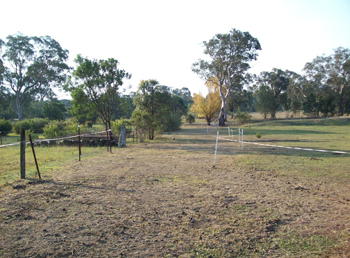 June 2009.
Casper came home and I was finally able to set up a track system for him.
8/6/09 - I couldn't help myself and started reducing Casper's toxin-binder that doesn't bind nutrition and of course the inevitable happened...
23/6/09 - Casper started biting again.
July 2009.
I still hadn't learnt my lesson completely and allowed Casper back out on grass.
August 2009.
I still hadn't learnt my lesson and started decreasing Casper's toxin-binder that doesn't bind nutrition and highly absorbable organic magnesium with boron. To make it worse, I had Casper on grass at the worst possible time of the year.
September 2009.
Lucy came to visit and Casper was the worst he had been for a very long time. He was tripping, weak in the back end, biting every couple of strides. I promised Lucy I would not play with his supplements again.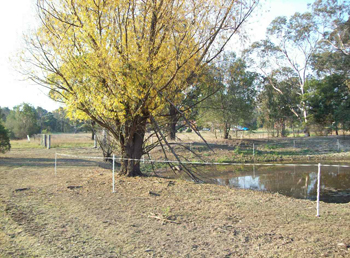 October 2009.
I was finally listening and leaving Casper's supplements alone and putting him back on his track. In response to this Casper has given me some of the best rides in ages.
November 2009.
Well it seems I have finally got the message loud and clear. Since then Casper has been responsive and light, listened and done some darn nice work for me. So that is a year in Casper's life. It has been a difficult year for both of us, especially throwing into the mix moving and having to set up all new facilities, but now I would like to believe that Casper is a happy horse. Even though going through the 'will it work if I change this' with Casper we have finally found a combination that works and will progress from here.
I am even considering taking Casper to some low level dressage competitions in 2010. Something that was out of the question previously. Maybe now I won't lose my competition fees, as I would enter a competition and have to withdraw when Casper was just not the type of horse you wanted to be riding a dressage competition on...! Trot at A…bite, trot... bite, bite... trot... stop and BITE, BITE, BITE... It was not a good look!
I am so glad that I kept a stable diary to record all that went on both feed and attitude wise. I haven't taken Casper out to competitions at the first sign of being okay. He needed time to recover. As you can see it can take months to reverse the effects. These products literally saved Casper's life. I hope my story helps others realise that their horse isn't just naughty, they just need to be on the ProVide It Plan and take the time it takes for it to truly work.
Leanne Aarts - Sydney, Australia.
Read Casper's Story.